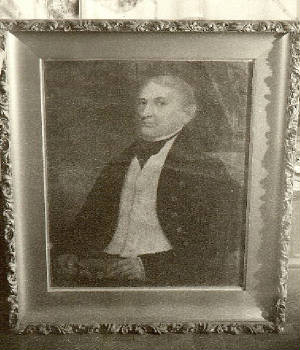 John Miller, (1834 age 79)
John Miller was born on 9 Nov 1755 in Lancaster County, Pa., which later became Dauphin Co. He died 22 Aug 1838. Philadelphia City Directories of 1802 through 1833 (Thomas, p. 51) list his occupation as innkeeper at 63 N. 4th St., Philadelphia. This was the Farmers Inn, which is described in detail in Thomas, p. 59. Thomas, p. 53, indicates that Mary Eaton was his second wife (first wife's name wasn't found). He had two children, Ann (birth date unknown) & Elizabeth (born 1 May 1792). The Farmers Inn was willed to his daughter, Elizabeth.
The following information is excerpted from Revolutionary War Soldier John Miller's 10 page pension file, S. 5757. The file is available at the Heritage Quest website. This was copied due to legibility concerns regarding the file contents. It is based on testimony John Miller gave in court in Philadelphia, Pa, in 1837 (when he was 82) regarding his claim for a pension & further court testimony in 1841 when his daughter, Elizabeth Bisbing was granted his pension.
"John Miller was born 9 Nov 1755, in Dauphin County, Pa. The names of his parents are not given. While residing on Cherry St. in Philadelphia, Pa., John Miller enlisted sometime in Dec 1776, served two months as a private in Colonel Bayard's Pa. regiment, at the time of the battle of Trenton he was at Dunks Ferry, in the endeavor to get the cannon across the Delaware river, was in the battle of Princeton. He served in 1777, two months in Captain Conrad Rush's company, Colonel Bayard Smith's Princeton regiment, and was in the battle of Brandywine. He volunteered, again, in 1777, and went on a secret expedition, under Captain Whiteman & Colonel Knox, waded the Schuylkill river at "Swedes' Fork" and cut the ropes, by which the "middle ferry on the River Schuylkill was crossed", to prevent the British from crossing, after which he assisted in taking Forty-two head of cattle into camp, length of this tour was not stated. He was captured the night of 5 Feb 1778, with Captain Swift & Colonel Coates, put in the Philadelphia Prison on Walnut Street, held there until 18 Jun 1778, then put on a British Transport & carried to New York City & held a prisoner in North Church until exchanged sometime in Aug 1778. He was a sergeant in Captain Andrew Burkhart's company, also served under Colonel Will, & two months as a guard in Philadelphia. He stated that he served in almost every campaign in the Philadelphia Militia, during the Revolution.
After the Revolution, this soldier, John Miller, was "High Constable" of Philadelphia for four years, definite dates not given. Pension was allowed on his application executed 12 Oct 1837, at which time he was a resident of Northern Liberties, Philadelphia County, Pa., where he had lived a few years. John Miller died 27 Aug 1838, leaving no widow. The name of his wife is not shown, nor are there any data in regard to their marriage.
He was survived by one child, a daughter, Elizabeth, the wife of George Bisbing, both of whom were living in 1841. The only other child mentioned was Ann Miller, who married William Hay, she died before her father, John Miller, and her husband William Hay was referred to in 1841 as deceased, their two children, John & William Hay, were living in 1841".
Elizabeth Miller Vandegrift Bisbing (about 1855, age 63)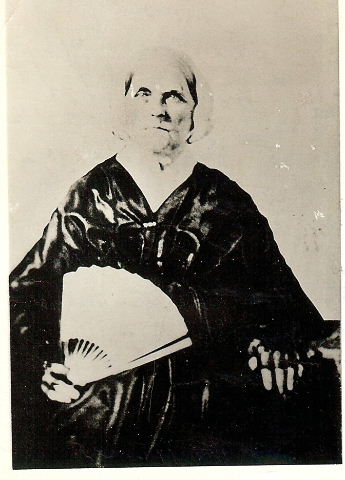 Elizabeth received his pension in 1841 as shown below in a page from his pension file. The amount was $ 20/year.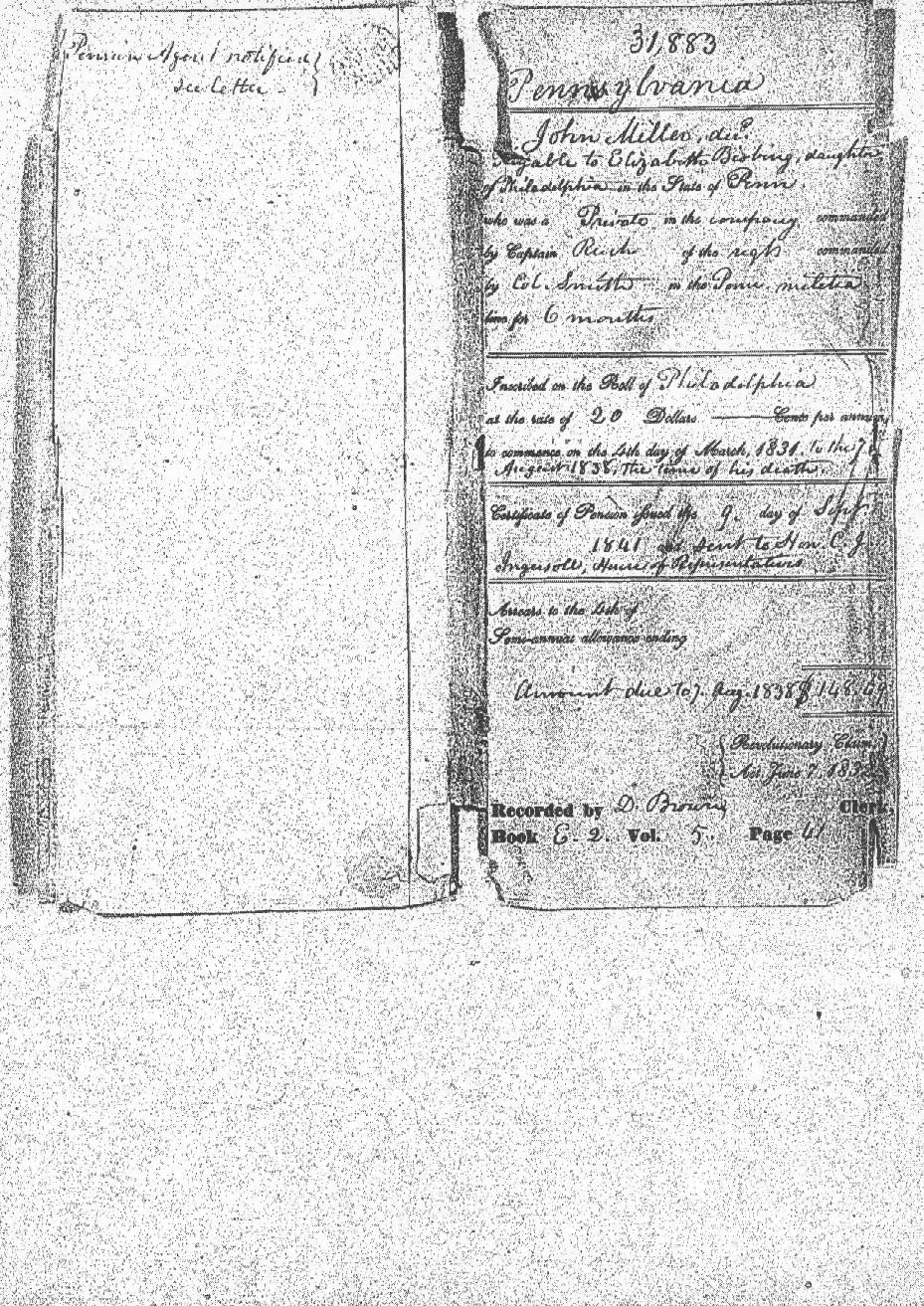 He died 22 Aug 1838 per the obituary, which appeared in the Philadelphia Ledger & Daily Transcript of 23 Aug 1838 (Thomas, p. 54).

Ann Miller
Ann married William Hay & had two children, John M. (middle name most likely was Miller) & William (both are mentioned in John Miller's will as minors, which means that they were born after 14 July 1808, since his will was dated 14 July 1829). John's wife Mary, daughter Ann & her husband, William, must have been deceased by the date of the will, as they weren't mentioned.
Elizabeth Miller
Elizabeth married Jacob Vandegrift on 28 May 1807 in Philadelphia (just turned 15!). Jacob was listed in the 1819 Philadelphia City Directory as an Oak Cooper at 29 Swanson & in the 1820 through 1822 directories as an Oak Cooper & inspector of staves, beading & shingles at the same address. The 1822 listing may have been due to printing lead-time as he was deceased. He wasn't listed in the 1823 & 24 directories. In the 1825 directory, Elizabeth was listed as a widow & seamstress at Smith's court back of 117 N. 5th .
Their children were:
John Miller, born 15 May 1808
Matilda, born 4 March 1810
Susanna, born 9 Jun 1812
Mary Ann, born 5 Aug 1814
Jacob, born 9 Sep 1816
Henry, born 23 Dec 1818
Elizabeth, born 13 Jan 1822 (3 months after her father's death on 12 Oct 1821)
Elizabeth presumably married George Bisbing some time prior to 5 Aug 1827 as their oldest son was born then. He is listed in the 1820 through 1822 directories as an Oak Cooper at 200 N. 5th. She also was identified as Elizabeth Bisbing in the will. They had 4 sons, including George, who is mentioned in a newspaper article about John Miller Vandegrift Jr. as not liking Mn. & returning to Indianapolis in 1857. There is a George Bisbing listed in the 1855 Indianapolis directory: House on Tenn. Between N. Y. & Vt., E. side. Also, a George Bisbing is buried in Crown Hill Cemetery in Indianapolis.
According to Sanchez, p. 5, George Bisbing was mean to the Vandegrift children & drove them away from home. Matilda is stated to have been adopted by a Quaker couple; Henry by a Kentuckian & Jacob lived with his grandfather, John Miller. John Miller Vandegrift wasn't mentioned in the book, probably because he was old enough to live on his own. It is noteworthy that George Bisbing declined to administer John Miller's will (below) & Elizabeth asked Matilda's husband, Joseph Whitecar to act as administrator.
The abstract of John Miller's will is given below (Thomas, p. 52).